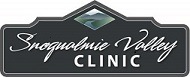 Thank you for visiting our site. Below is some basic information about the clinic. We welcome you to call for more specific information.

Modern vaccine availability updated 4/28/21

1st Dose - Appointments available May 3-6

2nd Dose - 1 appointment available 4/28. 2 appointments available 4/29

Please call our office and follow the prompts for scheduling.

Below are the forms needed for vaccine appointments. Please print at home and bring to your appointment with copies of your picture id and insurance card.

1st Moderna vaccine patient forms

2nd Moderna vaccine patient forms

Moderna EUA Fact Sheet for Recipients


Spanish Moderna EUA Fact Sheet for Recipients

Spanish Prevaccination check list

Snoqualmie Valley Clinic is an independent, family practice clinic providing medical care to generations of families. Located in historic downtown Snoqualmie near city hall and the post office, the clinic features a dedicated urgent care area for wound and fracture care, on-site digital x-ray, on-site laboratory services, and large patient rooms for families. All patient rooms and facilities are ADA compliant and there is a covered ramp to assist with entry.

The clinic is located in the Snoqualmie Professional Center Suite 400 at the corner of River Street and Maple Avenue in downtown Snoqualmie, across the street from the United Methodist Church and Snoqualmie City Hall. The main entrance faces River Street. Parking is available in the lot located off of River Street and street parking on Maple. The clinic is open Monday-Friday 9-5. Appointments required.

If you are a new patient or it has been over 1 year since your last update, our registration and health history forms are located on the forms page.

Please bring any applicable copay, current insurance card and picture id to every visit.

Mailing Address
Street Address
PO Box 2013
Snoqualmie, WA 98065
38700 SE River Street #400
Snoqualmie, WA 98065
Phone: 425-888-2299
Fax: 425-888-1204
To access the Athena patient portal effective 12/1/19: https://20366.portal.athenahealth.com/

To access our previous patient portal: https://webview.emds.com/svc-online/

Dr. Doerfler's MDVip website: https://www.mdvip.com/doctors/MauriceDoerflerMD